Create individual trophies, personalized awards, honorary prizes and medals. Laser engrave signs for ready-made trophies fast.
---
You can personalize trophies or awards for clubs, e.g. football cups. Practically any design, whether text, logo, image or photo, can be laser engraved in great detail and on different surfaces using the laser engraver. Impress clients with your own designs made of acrylic. Cutting with a Trotec laser machine creates a crystal-clear edge and additional post processing of the material is no longer necessary.
Contactless processing saves you tool or grinding costs for milling machines. Fulfill even more customer requests using the flexibility of the laser machine and thus make more profit. Offer an additional service through personalized, individual packaging.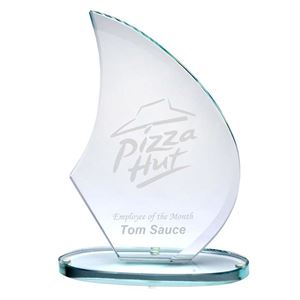 Engraved Glass Awards
Choose from our range of engraved glass awards & trophies
At Impact Trophies & Medals, we offer a huge range of engraved glass trophies, medals and awards suited to any special occasion, event or competition. Our extensive range includes engraved crystal trophies, engraved glass awards and engraved glass plaques for any awards event. Impact Trophies & Medals are a leading retailer of engraved glass trophies & awards. Great for personalisation, many of our engraved glass trophies and engraved crystal plaques can be personalised with high quality text & logo engraving, to perfectly meet all your sports or business presentation needs.
Engraving & Printing Services
FREE Standard Trophy Plate Engraving
Standard trophy plates are thin aluminum plates with adhesive backs that affix to the trophy. The FREE plates are custom engraved with your text (up to 120 characters). The trophy plates come in a variety of sizes to best fit the trophy.
Gold, Silver, Nickle, Glass & Pewter Trophy Engraving
These high quality materials can be engraved on the trophy body at extra cost. The engraving method and price for custom body engraving is varied for different trophies and is fully detailed on the individual product listing. 
Medal Engraving
Some medals come with the option of high quality reverse-side engraving at extra cost. Alternatively, you may also like to consider our reverse-side black text printing on self-adhesive clear labels as a very low cost option.
Bespoke Centre Discs
Many of our trophies and medals have the option to mount a circular high quality self-adhesive vinyl label featuring your logo or badge. We can also print text above and below your design for that extra customization. If you do not have access to bespoke artwork, please select from our standard stock range at no extra cost.
Advantages of laser technology
Upgrade of a standard product with cost-effective customization.
One tool for almost all materials.
Fast and digital - the laser process.